Home | News
About Us | About OSS
The Lab


Circus Linux! - Reviews
---
Gaming on Linux, September 2022
Building a Retro Linux Gaming Computer - Part 18: Run Away and Join the Circus
by Hamish, Gaming on Linux, September 22, 2022

Circus Linux! goes all in on the theme in a way that the original Atari version never could, sporting bright colourful animated graphics and fun upbeat music and sound effects, showing off the power of the then still fresh Simple DirectMedia Layer. [...] Like most arcade games Circus Linux! is a test of both your dexterity and endurance, challenging you to hold on to your lives for as long as possible while racking up the highest possible score. The game also has support for local hot seat multiplayer, either in a cooperative mode where you both get the chance to help one another pop balloons, or an adversarial mode where you compete to earn the highest possible score.
Linux Journal, June 2008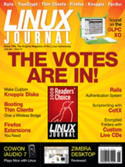 Learning...Disguised
by Marcel Gané
from Linux Journal magazine, June 2008

Circus Linux, from New Breed Software, is a great, and very silly, little game that takes place inside the big top of a circus, and yes, the main characters are clowns. ... (Read the rest of this article)
GP32 Port Reviewed
Circus Linux is similar to Breakout or Arkanoid in the respect that you have to pop the balloons on the top of the screen, while you have a "seesaw" on the bottom you have to bounce your partner to the top to pop the balloons. It's not as easy as it sounds, when you miss, your partner falls through the floor!

Circus Linux is great fun with beautiful hand-drawn graphics, animated backgrounds, a catchy theme song, and good sound effects. Even though the original Circus Linux used the mouse for more precision, Chui has made the GP32 joypad control it very well. I like to play it in short bursts to beat my high score! In short, I recommend this game to anyone who likes simple, but fun arcade-styled games.

Overall Rating: 8.3

-Bob Borakovitz, GP32 Homebrew Reviews, March 2005
LinuxBerg Rating
Circus Linux! receive 5 out of 5 penguins
in the Action category from Linuxberg.

GamesForLinux.de Review
G4L's Review:

The graphics aren't very complex, but however are quite beautifully drawn.

The sound [is] quite funny.
Linux Journal, May 2000
Circus Linux! was reviewed in the May 2000 issue of Linux Journal Magazine. (Page 164, in the "Games We Play" column.)

"Another antique to look at is Circus Linux! by Bill Kendrick of New Breed Software. Bill is an interesting fellow who has developed a ton of games for Linux... Circus Linux! is his latest, a Linux remake of the classic (?) Atari 2600 game Circus Atari..."
Gamesmania Article
The Mac release of Circus Linux! was mentioned in the August 30, 2000 issue of Gamesmania.
Linux Magazine (Japan)
Linux Magazine mentioned Circus Linux! its June 2000 issue.
TECH Linux Article
Circus Linux! was used as the example game in creating a Linux-based bootable game CD-ROM in an issue of the Japanese magazine TECH Linux.

Yamamori Takenori wrote the article, titled "Linux CD-ROM Game System.
"Circus Atari was my all time favourite! I love your updated version. ... Thank you. this is the best game ever - and you gave it back to me. I am endebted." - John S.

"Very cool... my kids love it!"

"An excellent version of one of my favorite Atari games... I love it!"

"I think this is your best game so far" - Aaron Matthews

"Funny game... I love it! It reminds me of the old days." - Micku

"[At the] last LAN party I had me and my friends were playing [Circus Linux!] after we got sick of Unreal Tournament and Quake III Arena."

"Nice job, and the gameplay translates to a mouse better than Kaboom! did."

"Ha ha ha... What a fun game. The music and sound effects are a big plus. Overall the game has a polished feeling that makes it stand out from the crowd of half finished open source games." - Andrew Meier

"Good mindless fun..."

"I think it's great! The first time I played Circus was on a machine at The Virginian in Medicine Bow, Wyoming. Playing it again today brings back memories. Thanks!!!!!"

"Great simple game!! Keep up the great work."

"It's great, I don't play it much myself, but my 2 year old nephew is become a dab hand at it :)"

"My kids say thanks for Circus Linux! :-)"

"It is great fun, specially for my kids. Kudos and thanks for that."

"Excellent game, very professional. Linux could use more games like this." - Michael Watters

"Excellent "Circus Atari" version with better graphics and sound! A must have for arcade hardcore-fans!" - Georgie

"Really nice game."

"I like the game." - Niels

"My kids have been playing your game [...] and it is their favorite. [...] Thank you so much for writing such a neat game." - Linda H.

"I love it! Thank you! ... I really pine for the creativity and humor of the old atari games. These days it seems like it's all Doom clones. Thanks for bringing me back :-)" - Suzanne Skinner

"...Joyful [with perfect sound]. Four stars" - 'bitvision'

"Unlike many other people who turn out 'retro clone' type games, you seem to have a real skill for capturing the spirit and excitement of the old time arcade and console games. Circus Linux is a great example, it really is a worthy successor to good old 'Circus Atari'!" - 'MaxQuordlepleen'

"As a former Atari Computer user myself, I really enjoy your port of old Atari favorites. My favorite ones are Circus Linux! and Mad Bomber. I used to be a Kaboom! junkie back in the 80's. ... been a former Atari 8-bit enthusiast, moving to a Linux enthusiast as well, I really enjoy your work. Thanks for bringing back such fond memories." - 'Heffel'

"Thanks very much for reproducing one of my favorite games" - Michael Perloff

"I installed ... Circus Linux on my nephews' computer ... the other week. They love [it]. Great work. I'd recommend these to others with little kids." - Andrew

"Bill Kendrick is awesome! Love CircusLinux, reminds me of gaming in the 80's in terms of playability (and really...I am giving a great accolade in saying that!). So wish I could stop getting distracted and actually work on coding..." - Matthew Johnson

"Circus and Kaboom were among my favorite 2600 games. Your clones are a lot of fun!" - 'ArturoC'

"I liked Circus Atari, and Circus Linux was just that much more fun when I discovered it." - Gianfranco Berardi

"Circus linux is cool game" - Georgik

"I love this game! The graphics are simple enough to run on our old P133, as well as my own 2.2GHz processor, and it looks great on both machines. CL stands right up there at the top with TuxRacer on the list of cute, fun Linux games. I love the sound effects and music. Everytime I play this game, it makes me smile. Do keep up the great work." - Noir