About Us
---
"New Breed Software" is a pseudonym used by lead developer Bill Kendrick since in 1993. Our goal is to provide quality free, Open Source software, while at the same time improving our skills as developers.
Thanks to other Open Source volunteers around the globe, our projects, and the platforms they are created for, are diverse — ranging from the classic Atari 8-bit computer system from the early 1980s to more modern home game consoles and handheld systems.
While we focus mainly on games, we've also created a few libraries, tools and utilities.
---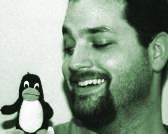 Bill Kendrick, with Tux the Linux mascot
(Photo credit: John Marcotte, 2002.)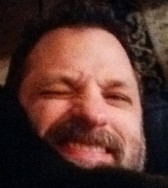 Bill Kendrick, with his cat "Mattie"
(2018)
Bill Kendrick is New Breed Software's lead designer and developer.
Many countless others have helped contributed to many New Breed Software projects in various ways. Various download pages credit people who have ported our applications, while "AUTHORS" and "CHANGES" documentation within our applications credit those who have helped develop, bug-fix and port each app.
---
See also: About Open Source